Transferring to a hybrid work environment has redefined workplace communication – successfully delivering, receiving, and understanding the message is more important than ever.
Any barrier in this process can cause a misunderstanding of the message and result in a wrong decision or action that further affects the business. The modern workplace demands clear, concise, and fast communication – free of barriers. There is no place for ambiguity, misunderstandings, and confusion.
Communication barriers are one of the most common reasons why messages in communication are misinterpreted. These barriers can be different, and some of them are:
Physiological – A person's physical conditions like tiredness, illness, or even hunger, can negatively affect communication.
Semantics (language barriers) – They can lead to different interpretations of the meaning of some words. For example, using jargon, unfamiliar words, and abbreviations. Or even using a different dialect.
Physical – These include physical distance, like offices in different locations or hybrid work environments, or surrounding noise that can distract effective communication.
Emotional – When employees feel fear or have internal conflict, they are more likely to interpret wrong communication messages.
Technological – Limited access and the wrong choice of the communication channel can create mistrust and misunderstanding, resulting in poor communication between employees.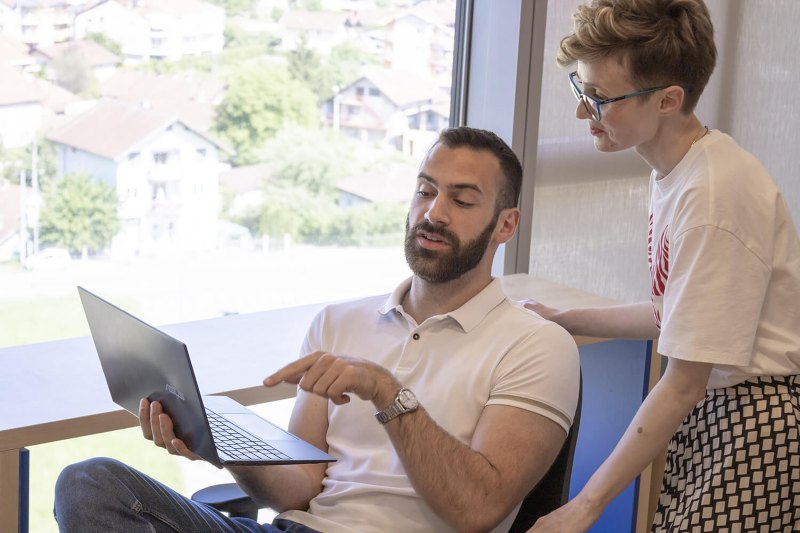 How can you overcome communication barriers?
If you want to overcome communication barriers, you first must recognize which barriers have the biggest impact on your workplace communication. In this article, we focused on barriers that any employer could influence and easy solutions to overcome them.
Barrier: Communication channel limitations
Solution: Find a proper communication channel that suits your needs
The source of communication problems can be the wrong choice of communication channels.
The right communication channel will strengthen communication and suppress distractions. On the other side, the wrong channel can impede communication and lead to poor team and cross-team communication.
But how to choose the right channel? This is the first step to healthy communication, and you need to consider various factors. Choosing the most appropriate channel depends on the audience, the message, and the purpose of communication.
For example: if you have deskless and mobile employees, your communication channel should engage them too. On the other hand, if your messages need immediate attention and a quick response, you'll definitely not choose email.
Barrier: Communication overwhelm
Solution: Don't use one communication tool for all types of communications
Related to the first communication barrier – not every tool is perfect for every message. That is why you should always know where to communicate and about what.
It is important to make a difference between channels that serve you for everyday tasks and everyday communication, channels that serve to share company information and knowledge, and channels for personal communication.
Otherwise, you will create an additional communication problem because you will overload your communication channel. Ultimately, your employees will be overwhelmed with information and miss some essentials. Especially if they are working remotely or in a hybrid work environment.
So, if you want to share knowledge or don't need immediate feedback, you will use adapted channels that don't disturb employees with unnecessary notifications. Lorino is designed to help you reduce the overload of existing communication channels.
With this specialized tool, you will keep employees informed about what is happening in the company and share important materials with them. You will have the perfect channel for knowledge sharing and employee acknowledgment without interrupting your employees in the work process.