Internal communication has undergone a radical transformation in recent years, not only in terms of technology and channels but also in terms of the way it's structured.
In the past, internal communication was top-down— senior leaders were in charge and all messages were sent from them to employees who had little to no input or feedback. Nowadays, however, companies are shifting their approach to a more collaborative bottom-up model.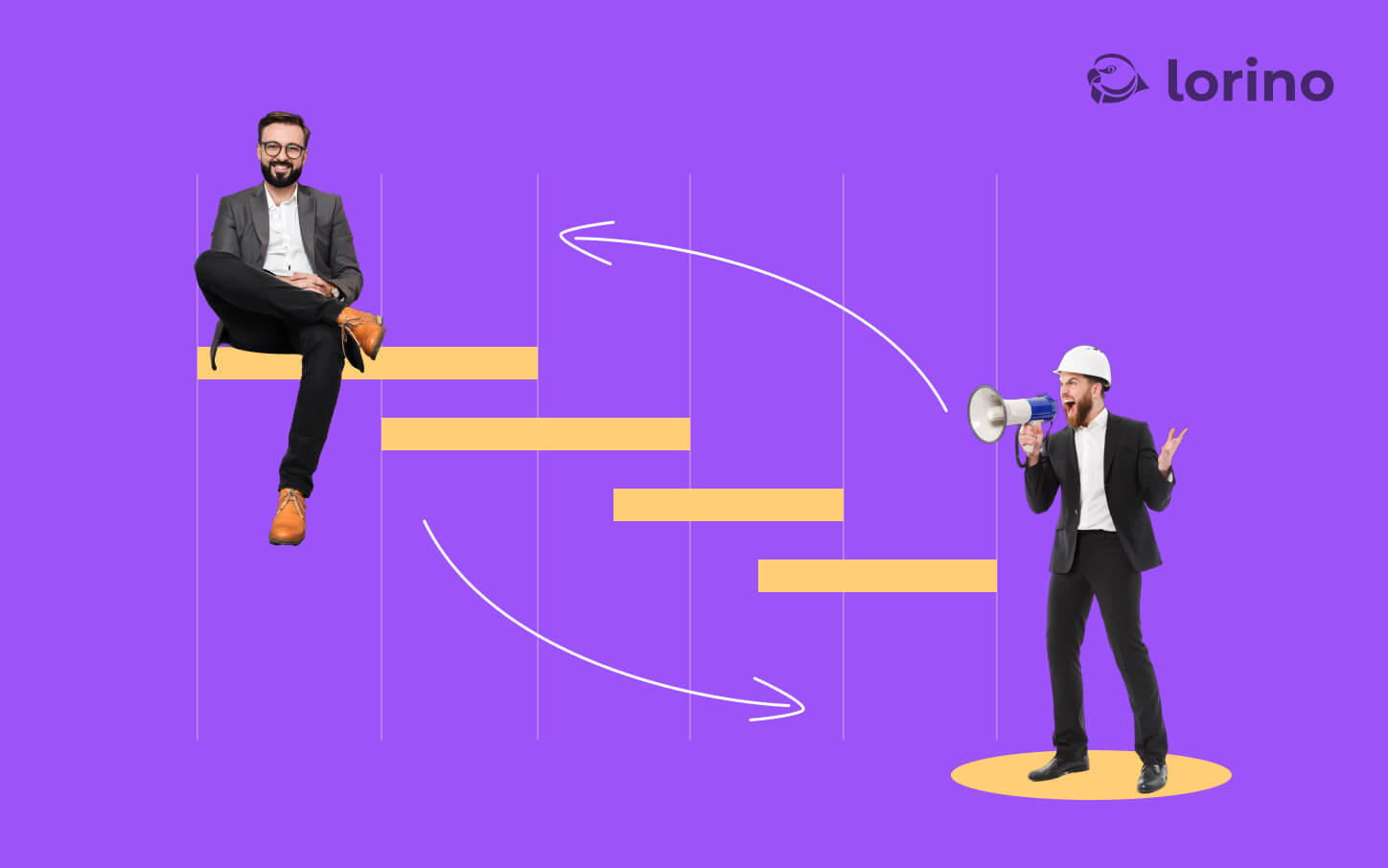 In this article, we will take you on a journey from the old-fashioned top-down approach to the modern bottom-up approach to internal communication, show you why it happened, how it happened, and show you examples of companies that have successfully made the transition.
From Industrial to Informational: The Evolution of Internal Communication Styles
The traditional top-down approach to internal communication emerged in the industrial age as a means of controlling and managing production efficiently.
In simple manufacturing processes, this approach worked well, because it matched the nature and requirements of the process.
The tasks at hand did not require any creativity or autonomy from the workers; in actuality, due to the lack of education and training among the labor force, it was undesirable.
Following standardized procedures and routines that were designed by the management or engineers was the safest and most efficient way of producing goods.
However, as the business landscape has evolved over time from being dominated by manual labor toward becoming dominated by knowledge work and creative problem-solving, the top-down approach of internal communication has become far less effective.
The Drawbacks of the Top-Down Model
In simple manufacturing industries, both productivity and profitability were directly related to the number of hands on the production line, and hours worked.
But as the world gradually moved to a post-industrialized society, productivity and profitability became much more complexly intertwined with the way people are motivated and organized within a company.
And the top-down model of communication was simply not suitable for these new requirements.
It stifles creativity and autonomy, hinders collaboration and information sharing amongst teams and departments, and fails to empower employees as decision-makers.
Moreover, it does not allow for any kind of feedback or input from employees, which can be a major source of innovation and improvement.
In short, this traditional model of communication fails to foster an environment in which people are given the opportunity to develop, express their ideas and opinions, and take ownership of their work.
Unlocking the Potential of Bottom-Up Communication: Understanding Its Barriers and Rewards
We are now at the peak of the informational age. Never before were innovation and creativity as important in driving the success of an organization as it is now.
Therefore, the focus has shifted to empowering employees by giving them more freedom and responsibility in their daily tasks.
This is where bottom-up communication comes into play— it's an internal communication approach that encourages collaboration, feedback, and participation from every level of the organization.
Rather than seeing employees as mere cogs in a machine, this approach seeks to give them an active role in shaping organizational culture and decision-making.
Employees are seen as important sources of ideas and innovation, and they are given the opportunity to voice their opinions and be heard by leadership.
The Benefits of a Bottom-Up Approach
As this shift has not been an abrupt one, but rather a gradual transition, there was ample time to assess the effects of this new approach on companies and their employees.
And there is plenty of research to suggest that bottom-up communication has:
Apart from raising employee engagement, bottom-up communication can also lead to an improvement in the quality of decision-making.
With more people having a say in how decisions are made, organizations have access to a wider range of perspectives and insights. This diversity of thought leads to better outcomes and improved problem-solving capabilities.
Combined with all the benefits we mentioned earlier, it's easy to see why empowering employees at every level can be such a powerful tool for organizational success.
The Barriers to Implementation
While the advantages of bottom-up communication are clear and have also been known for a while, implementing this approach hasn't been as widespread and successful.
One of the main obstacles is reluctance of senior executives and managers to relinquish their authority and embrace an open-ended dialogue with employees.
In order to fully embrace this new way of communicating and make it work, everyone in the organization needs to be on board. This can be a challenge because it requires rethinking long-held beliefs about management and leadership.