With the advent of digital technology and remote work, it's becoming increasingly difficult to ensure that information is shared effectively.
Some of it is due to technological limitations, flawed procedures and processes, and a lack of team communication. But sadly, a lot of it is down to human nature and behavior.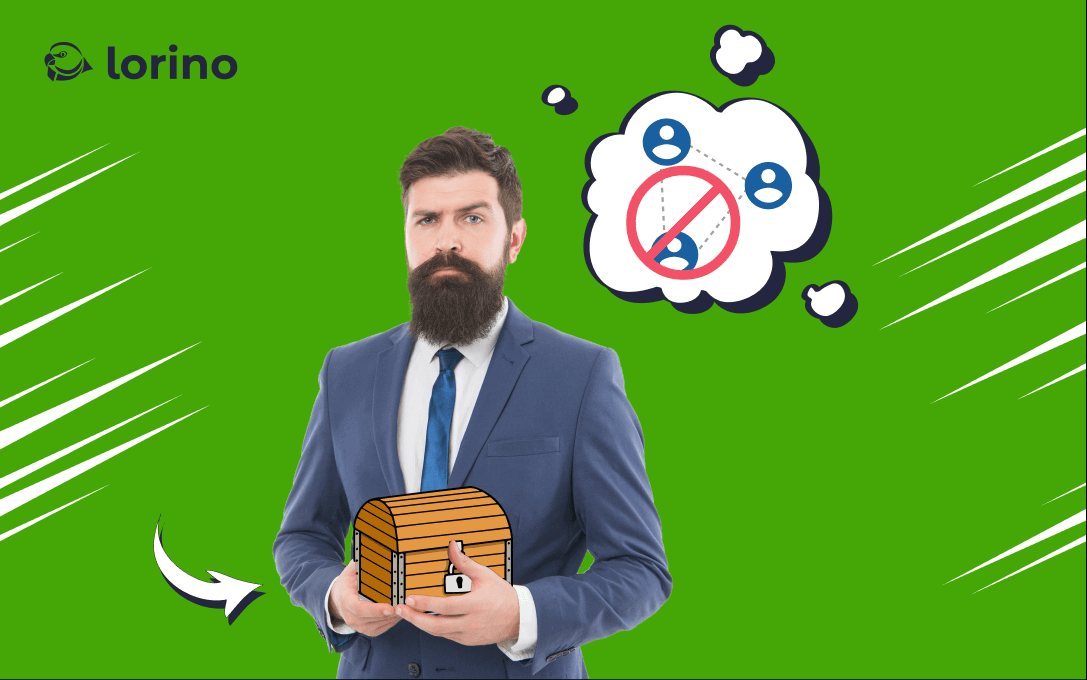 Knowledge hoarding can be an insidious problem in any organization, as it prevents the free flow of information which ultimately leads to collective failure.
In this article, we're going to take a look at what knowledge hoarding is, and how to identify and prevent it from happening within your company.
What is Knowledge Hoarding?
Knowledge hoarding is when one gathers knowledge and deliberately withholds it from others in order to maintain power or advantages.
This leads to important knowledge being siloed within a single individual or department, and anyone else can only get it if they are willing to go through those people.
For them, that ensures that their expertise is valued and gives them a sense of control over their domain.
For the organization, however, it can cause significant inefficiencies, as its resources are not being used to the best of their abilities. It can also be a risk to the organization's knowledge base and productivity if the hoarder leaves without passing on any of their wisdom.
Sometimes it's done intentionally for a variety of reasons (which we'll discuss in a moment), other times it's unintentional, due to a lack of awareness.
Either way, by keeping their expertise close to them, they're not only harming their team's productivity and efficiency but also putting the organization's continuity at risk.
That's why it's so important for managers to identify potential barriers that may be hindering knowledge sharing and understand why employees are sometimes so eager to keep their knowledge for themselves.
Hoarding Knowledge vs. Hoarding Information
Although these two terms are often used interchangeably, there is a slight but important difference between hoarding knowledge and hoarding information.
Hoarding knowledge means that someone is reluctant to share their insights, expertise, and experience with others while hoarding information is more related to withholding data and documents.
Both can be hazardous, but knowledge hoarding is more difficult to manage since most people tend to jealously guard their own expertise, feeling that it's their private intellectual property and they can do whatever they want with it.
Information, on the other hand, is common property. Be it spreadsheets, reports, presentations, or other documents - pretty much everyone understands that those should be shared with any team member who needs them.
So if you have an information hoarding problem in your company, it's usually because of a lack of understanding or awareness, or inefficiencies in procedures and processes.
Knowledge hoarding, however, is usually a sign of something deeper - a lack of trust, motivation, or simply bad team dynamics.
Why do Employees Hoard Knowledge?
Well, to put it simply: it's human nature. The natural inclination of employees at every level in almost every organization is to hoard knowledge, especially knowledge that is deemed valuable.
This is partly because of evolutionary mechanisms that drive us to strive for power and status; and partly because of other self-preservation tactics, such as feeling more secure in our role if we're the only one who knows how to do something.
The motivators can be divided into three primary factors:
Power - These individuals have exclusive control of key corporate info and by blocking the free sharing of it, they ensure that they stay in power and control.

Fear - By holding onto their knowledge, some try to protect themselves from being redundant, reduce their replaceability and become invaluable to the organization. In a business world that can often be dominated by insecurity, it's easy to see why some of the older workers, for example, might hoard knowledge out of fear they'll be replaced and have their value diminished.

Ego - Research shows that Machiavellianism is a major factor when it comes to hoarding knowledge. It seems like people who tend towards being manipulative are more likely to hoard their knowledge for their own benefit or even just for the ego boost of feeling like they have something special over others.
There's More Reward in Hoarding Than in Sharing
Apart from the fundamental human instinct to hold on to something as valuable as knowledge, there are other contributing factors to why people hoard knowledge instead of sharing it.
One of them being, that in many corporate cultures, there is far more reward for hoarding knowledge than for sharing it.
And yes, sure there are some altruistic individuals out there who do share selflessly, but in most cases, there's simply not enough incentive to give up something that gives you an edge over others.
In organizations where expertise is held in high regard, but mentoring and helping others is not taken into consideration, it makes perfect sense that rational people would be hesitant to share their knowledge and therefore power.
From promotions, bonuses, and recognition all the way to job security and longevity - there are a lot of rewards for those who choose to keep knowledge and information close to their chest.
And very few companies choose to incentivize and reward employees for sharing knowledge and collaborating, be it in the form of bonuses or other types of recognition.
Given this reality, it's no wonder that knowledge hoarding has become an endemic problem in organizations everywhere.
Sharing Knowledge is Tedious
And let's be honest - sharing knowledge is tedious, as it requires effort, time, and energy.
Teaching even just one person a skill or a process can be very time-consuming and often it's not seen as a priority by the company so employees are left on their own to figure out how and when they will teach others.
Sharing smaller bits of knowledge is dificult as well, as not a lot of organizations allow for time to document and share it, nor do they provide proper platforms to do it more efficiently.