In today's corporate world, the pressure to meet targets and achieve quantifiable metrics often takes precedence over other important aspects of a company's success.
Many companies focus on maximizing profits, market share, or growth, without considering the broader impact of their actions on their employees, customers, society, and the environment.
However, a paradigm shift is underway.
More and more leaders are starting to realize that a purpose-driven approach to their business can have a larger impact on their performance than just numbers.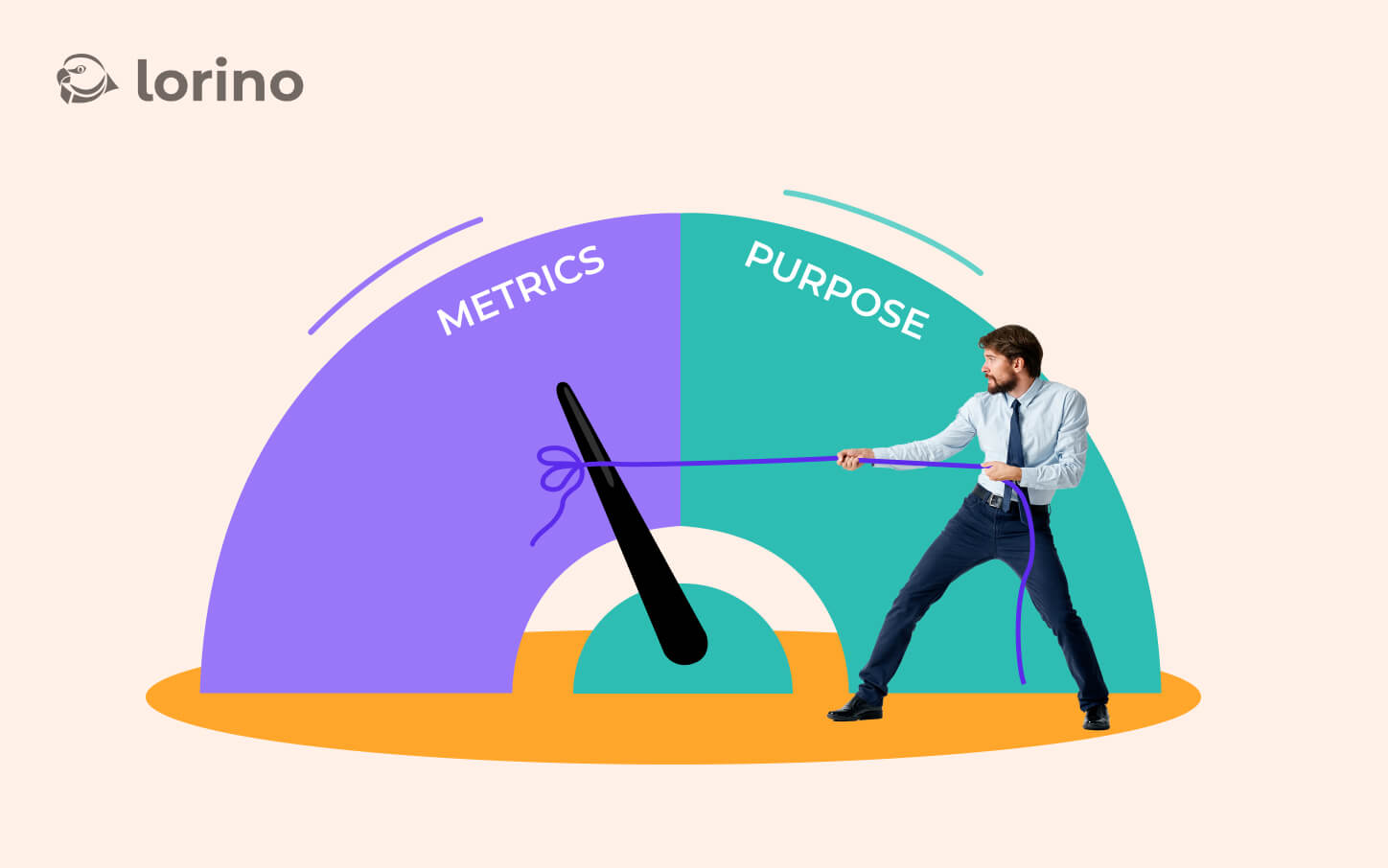 This article explores the reasons companies should prioritize purpose over metrics, and how this approach can positively impact not only your company's culture but also its bottom line.
What is Purpose in the Workplace?
The importance of purpose is not a new concept. In his 1943 paper "A Theory of Human Motivation" Maslow ranked self-actualization highest among human motivations. And purpose is both a prerequisite and a result of self-actualization.
According to Maslow, self-actualization is the process of becoming "everything you are capable of becoming". To achieve this, one needs to have a clear sense of what they want to do and why they want to do it. Purpose serves as a guiding light, igniting motivation and direction on the path of self-actualization.
Yet, purpose is not a rigid construct; it evolves and matures as individuals progress and evolve. As one pursues their purpose, they may discover new aspects of themselves and their potential. They may also encounter new challenges and opportunities that require them to adapt and learn.
In this way, purpose is also a result of self-actualization, as it reflects the ongoing process of becoming more fully oneself.
The Importance of Purpose in Today's Workplace
In a corporate setting, purpose represents the essence of why a company exists beyond mere profit-making. It's the higher calling or mission that ignites passion in employees and stakeholders, offering them a sense of fulfillment and significance in their roles.
When individuals feel that their work contributes to a greater good and matters in the grand scheme of things, they become more engaged, innovative, and satisfied in their jobs. Purpose-driven employees are also more inclined to develop their skills, seek new challenges, and strive for growth.
Some experts consider a company's purpose as a form of transcendence—an advancement beyond self-actualization. This concept involves connecting with something bigger than oneself, whether it's a cause, a community, or a higher purpose.
In the paper "Opportunities and Challenges of Purpose-Led Companies: An Empirical Study Through Expert Interviews", the authors explore how purpose-led companies can achieve both financial and social goals, as well as the difficulties they face in doing so.
They reference the work of Quinn and Thakor (2018), who define transcendence as 'the aspiration to discover life's meaning through connection to something greater than oneself'. They argue that purpose-led companies can foster transcendence by creating a shared sense of meaning and direction among their stakeholders, as well as by contributing to the common good of society.
And other research is backing that up:
In a nutshell, purpose-driven companies tap into the human desire for meaning and connection, leading to a more inspired and harmonious work environment where everyone is working together towards a shared sense of fulfillment.
The Advantages of Operating as a Purpose-Driven Company
According to a survey by Deloitte, purpose-driven companies experience higher market share gains and grow three times faster on average than their competitors, all while achieving superior workforce and customer satisfaction.
Moreover, a study by Harvard Business Review found that more than 90% of purpose-driven organizations deliver growth and profits at or above the industry average.
But how does having a purpose lead to these outcomes? There are several mechanisms that explain the positive effects of purpose on organizational performance and culture.
Some of them are:
1. Purpose inspires and motivates employees.
A clear and authentic purpose can provide employees with a sense of meaning, direction, and belonging in their work. Employees who are aligned with the organizational purpose are more likely to be engaged, productive, creative, and loyal.